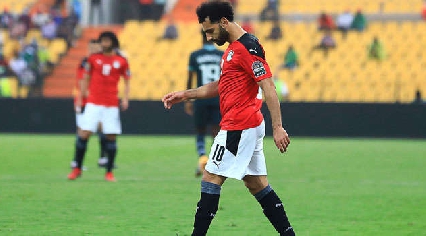 Egypt's captain, Mohammed Salah believes that African football is "hard." 
This confession came after the Pharaohs laboured to a controversial one nil victory over Guinea Bissau over the weekend
Salah was the hero for Egypt in the hard-fought victory, but it came with a lot of controversies after VAR cancelled a goal by Guinea Bissau late in the game.
The cancellation caused an uproar at the Roumde Adjia Stadium.
After the game, the 2017 and 2018 CAF Africa Footballer of the Year told Nigeria Info how difficult that about the level of the competition on the tournament.
"As you can see now, the tournament is hard," Salah said.
"Every team knows how to play football now in Africa as a lot of players (are) in Europe.
"So, most of the teams now have a lot of players playing outside Africa which is making the tournament hard.
The Pharaohs of Egypt face Sudan in the final group game needing at least a point to qualify for the Round of 16 and Salah says his teammates "need to believe ourselves and be strong mentally."

"let's try to fight as much as we can, then see how far we can go," he added.
On Monday night, Salah was beaten to the FIFA The Best award by Bayern Munich striker, Robert Lewandoski.