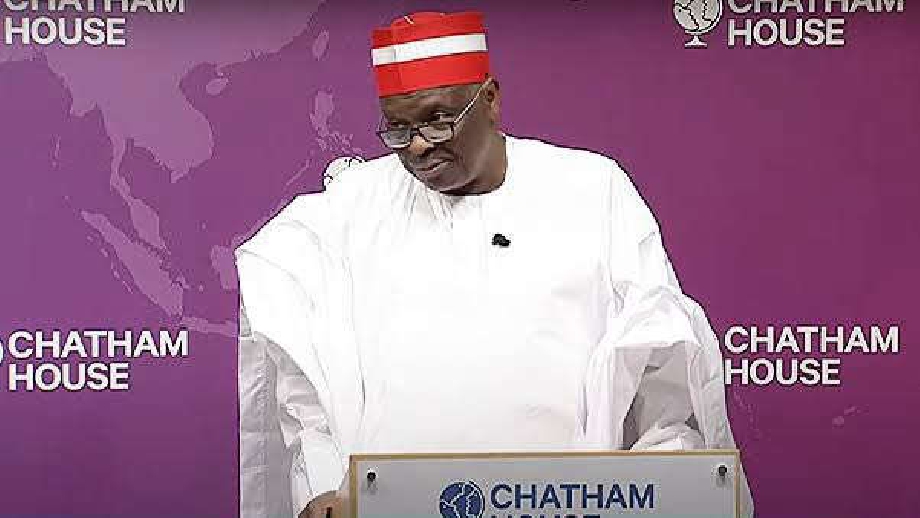 The presidential candidate of the New Nigerian People's Party, Rabiu Kwankwaso has boasted about the party "locking" northern Nigeria, ahead of the 2023 General Election.
He made the self-appraisal at Chatham House in London where he gave a speech on Wednesday.
During the question time from guests, Kwankwaso was asked if he would consider stepping down for Peter Obi of the Labour Party since both of them were intent on wresting power from the more established All Progressives Congress (APC) and the People's Democratic Party (PDP).
During his answer, the NNPP candidate disparaged Labour as an ethnic and religious-based party.
"The gentleman who stood up there: I am sure he comes from a particular group or region, without even asking him.
"If you have a party which is based on ethnicity and religion; that is the difference between Labour and our party, which is a national party, New Nigerian People's Party," he said.
He went on to disclose that he considered joining forces with the Labour Party but changed his mind.
"I was one of those initially wanting to work together with (the) Labour Party.
"But, unfortunately at that time, Labour Party was under very serious media hype, and therefore could not see reason," he continued.
Kwankwaso said the NNPP was the only growing party in Nigeria and that his academic credentials and political experience were superior to those of Obi.
"NNPP, our party, is the only party that is now getting support. Forget about big big people who are the actual problem of this our country.
"But supporters at the grassroots level. We are the only party today.
"And mark you, we have succeeded in locking northern Nigeria today, in terms of votes, in terms of support.
"Now, we are working in the southern part of the country. And for us, the difference between (the) north and south is that (the) north knows us more than (the) southern part of the country.
"If you are from the north I am sure you wouldn't have made that statement for Kwankwaso to withdraw for (the) Labour Party.
"You should go and look at my credentials my brother. I am a Ph.D. holder in civil engineering and check your candidate; what he has. I have been in the system for over 30 years.
"I was a civil servant for 17 years. I wasn't a trader. I was deputy speaker of the House of Representatives in 1992.
"I was in the constitutional conference, as an elected delegate. I was governor of Kano State for eight years. I was in the Senate, and so on and so forth.
"So, when we sat down, what I told them is what I will tell you: If anybody wants Kwankwaso to withdraw, let's bring criteria and select the best.
"Anytime I have a better candidate, I am ready to talk to him."
Kwankwaso also accused "anti-democratic forces" of scheming to take advantage of a likely run-off presidential vote to derail the General Election.
He said nothing short of an elected government will be acceptable to Nigerians.