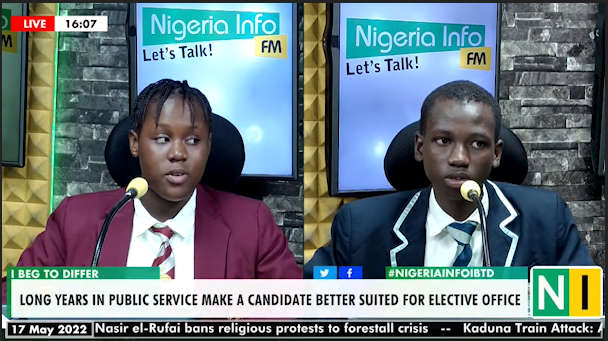 The second quarterfinal matchup of the 'I Beg To Differ' debate tournament on Nigeria Info's Hard Facts saw 14-year-old Kolade Stephen of CMS Grammar School, Akoka advance to the semifinal.
Stephen faced 15-year-old Ekemini Awesome of Inspira College Ikorodu on the topic, 'Long Years In Public Service Make A Candidate Better Suited For Elective Office.'
Stephan argued that it is against democratic principles to assess a candidate's suitability for elective office based on the number of years they have spent in public service.
Ekemini, on the other hand, argued that experience is necessary for candidates to serve in elective positions.
She added that the level of discipline amongst public servants is very high compared to individuals with no experience in public service.
Stephen Kolade qualified for the semifinals with a cumulative score of 79 points, while Ekemini Awesome scored 70 points.
Stephen now joins Hameed Olarenwaju in the semifinals of the tournament.