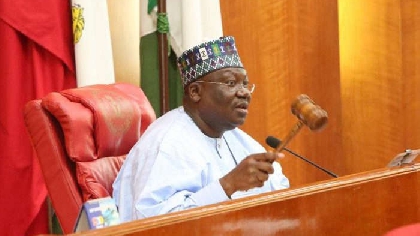 The Senate has passed a bill seeking to establish the Electoral Offences Commission.
This came after it considered the report by the Committee on Independent National Electoral Commission (INEC), Chaired by Senator Kabiru Gaya (APC, Kano).
Gaya, in his presentation, said establishing the Electoral Offences Commission is much needed because INEC has found it difficult to prosecute electoral offenders in accordance with the provisions of sections 149 and 150(2) of the Electoral Act (as amended).
The Senate in Clause 12 of the bill approved at least five years jail term or a fine of at least N10 million or both, for any officer or executive of any association or political party that engaged in electoral fraud that contravened the provisions of clauses 221, 225(1)(2)(3) and (4) and 227 of the 1999 Constitution, as amended.
It approved that a political party's candidate or agent who damages or snatches ballot boxes, ballot papers or election materials before, during or after an election without the permission of the election official in charge of the polling station attracts at least 20 years imprisonment or a fine of at least N40 million.
It also adopted the committee's recommendation of 15 years imprisonment for any person involved in ballot box snatching, supplying voter's card to persons without due authorisation, unauthorised printing of voters' register, illegal printing of ballot paper or electoral document among others.
It also approved a 10 years jail term for any person who sells a voter's card, or is in possession of any voter's card bearing the name of another person.
The upper chamber, in Clause 20(2), approved at least 15 years jail term for any judicial officer or a court or tribunal that corruptly perverts electoral justice, during or after an election and at least, 15 years jail term or N30 million fine for any security personnel or election official engaged by INEC who attempts to influence the outcome of an election among others.