Nigerians are condemning the lynching of Deborah Samuel, a female student of Shehu Shagari College of Education, Sokoto.
The 200-level student of the Department of Early Childhood Education was killed over a comment she is said to have made about Prophet Mohammed.
Here are some of the things Nigerians are saying about it:
Nothing justifies the beating and stoning that eventually led to killing and burning Deborah. This is not how to practice the religion of peace.
And If there are people who genuinely believe that she deserved such, then something has gone terribly wrong with our humanity.

— MrMacaroni (@mrmacaronii) May 12, 2022
Actions should have consequences. The brutal murder of Deborah Yakubu should have consequences. Her murderers must be arrested, prosecuted and punished to serve as deterrent to other demonic religious extremists and terrorists.

— Dr Dípò Awójídé (@OgbeniDipo) May 12, 2022
We saw them killing her, there's no further investigation needed. Murder must be judged as murder, that is the only way to save Nigeria.

Justice! Justice for Deborah.

— Somto Onuchukwu (@chosensomto) May 12, 2022
The online discussions over Deborah's death soon moved to the scrutinisation of aspirants for Nigeria's presidency.
A former presidential aide, Reno Omokri says the handling of the matter by the Governor of Sokoto State, Aminu Tambuwal, will show how he would handle Nigeria's religious diversity if he's elected President.
Governor Tambuwal is contesting to be President. How he handles the burning to death of Deborah on allegations of blaspheming prophet Mohammed SAW will send a very clear message to all Nigerians about how he intends to handle our religious diversity if he's elected!#TableShaker

— Reno Omokri (@renoomokri) May 12, 2022
Governor Tambuwal is aspiring to become President and other people are questioning his silence over the issue.
Hello sir @AWTambuwal, we are still waiting for your response on #Deborah.

Is this how you will be mute if elected as President?

— POOJA!!! (@PoojaMedia) May 12, 2022
If what happened today in Sokoto had happened in Anambra state even as today, Peter Obi would have been trending for 'not saying anything'.

Brings me to the question -• What is Aminu Tambuwal going to do about the gruesome murder of Deborah Samuel?? Show working!!

— Cross˚ (@Elkrosmediahub) May 12, 2022
Senator Shehu Sani says the allegations against the deceased should have been investigated and due process followed.
The murder of Deborah,a student of Shehu Shagari College of Education Sokoto is unconscionable and unreservedly & unambiguously condemned.Allegations against the deceased supposed to be investigated by Sokoto security agencies and follow due process of law.

— Senator Shehu Sani (@ShehuSani) May 12, 2022
Meanwhile, former Vice President and current presidential aspirant, Atiku Abubakar has come under fire for taking down his initial tweet condemning Deborah's death.
Alhaji Atiku had put out a tweet condemning Deborah's killing.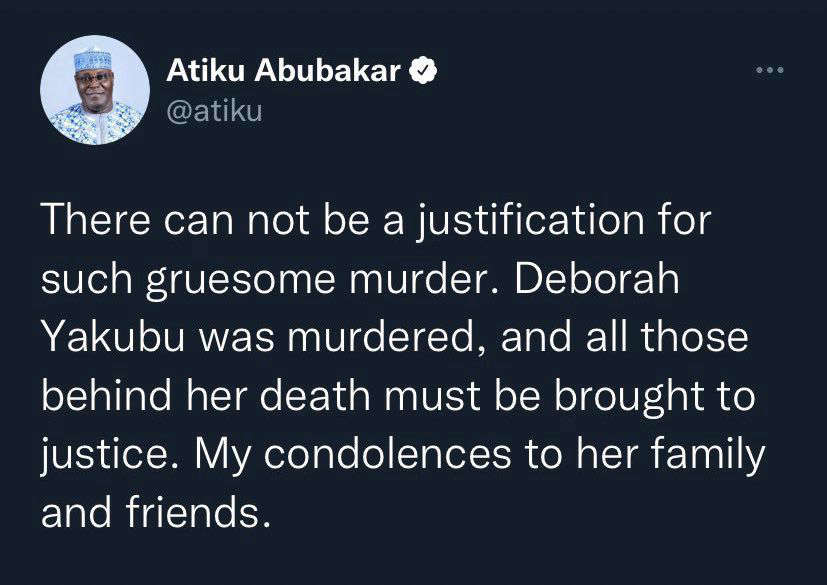 The tweet was deleted after some persons threatened his political ambition.
Such a good tweet from Atiku Abubakar condemning the brutal murder of Deborah Yakubu. It's really embarrassing it was deleted, especially after his silence about the Pantami saga.

— Dr Dípò Awójídé (@OgbeniDipo) May 13, 2022
Atiku was not really sympathetic

Tried to appease the South, saw reaction from the North, deleted

He feels it's better not to offend the North than offend the South because Southerners are slaves and will vote for him anyways

Our Politicians are the wickedest people on earth

— Mo-Mo💙 (@Morris_Monye) May 13, 2022
Incumbent President GEJ said his ambition is not worth the blood of any Nigerian and submitted to the will of the people without bloodshed.

Aspirant Atiku deleted his own tweet condemning religious mob who killed an innocent lady because they threatened him with votes in Sokoto.

— Man of Letters. (@Letter_to_Jack) May 13, 2022
Alhaji Atiku later put up a post on Facebook, justifying the taking down of the tweet.
Cikin wannan dare na samu bayanin cewa anyi wani rubutu da babu amincewa da umarni na. Da wannan nake amfani na sanar da cewa duk wani rubutu da babu alamar AA ba daga wajena bane. Allah ya kiyaye - AA

Posted by Atiku Abubakar Hausa on Thursday, May 12, 2022
The post on his official Hausa language Facebook account read, "This evening I received information that a post was made that doesn't agree with my orders. I use this to announce that any post without AA is not from me. May God protect – AA."
The Sokoto State government has ordered the closure of Shehu Shagari College of Education, indefinitely.
The Sokoto State Police Command has also assured that the suspects seen in a viral video boasting about killing Deborah will be arrested.
The police confirmed Deborah was forcefully removed from the security room where she was hidden by the school authorities before she was killed.