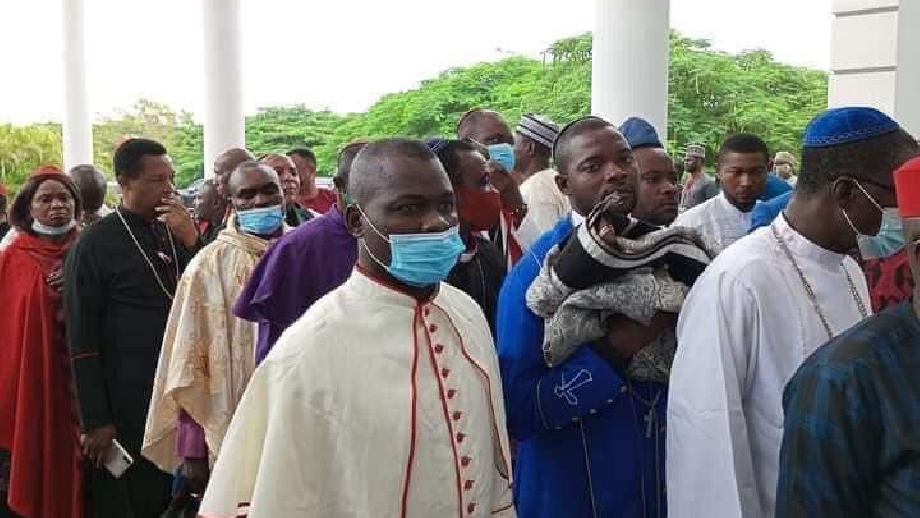 Several ''Bishops'' on Wednesday attended the unveiling of Kashim Shettima as the vice presidential candidate of the All Progressive Congress (APC) in Abuja.
This has caused a stir on social media as many Nigerians are alleging that the "Bishops" were hired to attend the event.
Recall that a few weeks back, Nigerians had reacted to the choice of a Muslim as the VP candidate of the APC which has a Muslim presidential candidate.
A former aide to former President Goodluck Jonathan, Reno Omokri tweeted that the "Bishops" were not members of the Christain Association of Nigeria (CAN).
These are not CAN members that showed up at Tinubu's Shettima unveiling. These are actually SCAM members. The real CAN members held a protest against the Muslim-Muslim ticket yesterday. The SCAM members belong to a different body! #TableShaker pic.twitter.com/wn68BUnIae

— Reno Omokri (@renoomokri) July 20, 2022
Other Nigerians believe that the APC must be very desperate for them to hire ''Bishops.''
Others saw it as an insult to Christians in Nigeria.
APC rented Bishops at the unveiling of their Vice Presidential candidate, Mallam Kashim Shettima.

They are so desperate for validation😁 pic.twitter.com/HcNGwCT3vx

— Thεό Abu (@TheoAbuAgada) July 20, 2022
I don't find that fake Priests and Bishops thing the APC did funny.
I mean, considering the recent spike in kidnappings and killings of Catholic Priests, Shettima's camaraderie with Boko Haram, plus their very polarizing MM ticket.
Feels like taunting. Very sinister one too.

— Ehi Enabs (@ehienabs) July 20, 2022
APC is the ghetto. This is blasphemous. As if the Muslim/Muslim ticket is not bad enough, these guys allegedly hired escapees from Kuje Prison & some non-christians to represent Christian Bishops. Politics aside, this is an insult to Christians TBH! pic.twitter.com/qaEgTo7VK2

— Aji Bussu Onye Mpiawa azụ 🏳️‍🌈 (@AfamDeluxo) July 20, 2022
Who would ever have thought that in his lifetime, he'd see hired Bishops or agberos dressed as Bishops hired to push a deceptive narrative. We thought it wasn't possible but there was APC. We forgot APC exists. Machine gun preachers 😭😭😭

— Maxvayshia™ 🇦🇺🇳🇬 (@maxvayshia) July 20, 2022
On the other hand, a member of the APC, Garba Adamu who just returned to the party last week says the "Bishops" believe in Nigeria and the capacity of the presidential candidate and his running mate.
I saw the Distinguished Bishops, over 30 of them, who believed in Nigeria, trust in the capacity of APC & its Presidential/Vice Presidential candidates

They represented the true Nigerian spirit of unity, peace & commitment to building the country for all. I love people like that

— Adamu Garba II (@adamugarba) July 20, 2022
Uknown Bishops
Meanwhile, the Christian Association of Nigeria has dissociated itself from the "Bishops" who attended the unveiling of Shettima.
The Vice President of CAN for the 19 Northern States and Abuja and its chairman in Kaduna State, Rev. Joseph John Hayab said the persons who wore the cassocks were "unknown Bishops."
"Of recent, we've been having issues of unknown gunmen, unknown this and that.
"So, now we also have a new issue of unknown Bishops, because if you are a Bishop you will have a ministry where you are a bishop presiding over that ministry," he told Nigeria Info.
Despite this, the APC maintains that the persons who graced the unveiling of its vice presidential candidate were clergy.
"We want to say that those clergymen were not fake, not mechanics or yam sellers as the purveyors of hatred have made Nigerians believe in the social media.
"They are not big names in Christendom yet, they are gradually building up their missions.
"They are Church leaders who genuinely believe that Nigerians must eschew politics of hatred and religious bigotry and rather embrace politics of peace and nation building," the Director of Media and Communication for the Tinubu Campaign Organisation, Bayo Onanuga said in a statement.
But Rev. Hayab is asking, "If they are Bishops, what church?"