The Nigeria Labour Congress (NLC) is planning a mega rally in Abuja on Wednesday.
In a memo seen by Nigeria Info, the congress asked its members to gather at the Unity Fountain in the capital city for the rally.
"In furtherance of the decision of the National Executive Council of the Congress that a mega rally holds in Abuja on Wednesday, July 27, 2022, I am directed to inform you that workers are directed to converge at Unity Fountain at 7:30 am," the memo read.
The NLC also asked its affiliates to mobilise in large numbers for the rally.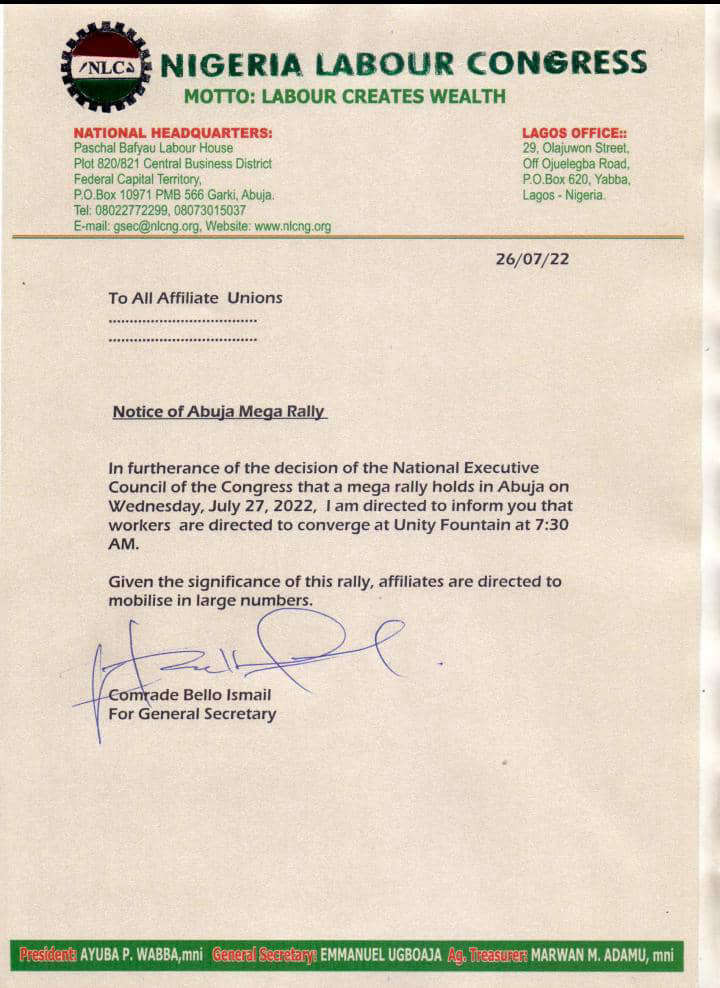 The congress started a two-day warning protest on Tuesday in solidarity with the Academic Staff Union of Universities (ASUU) which has been on a strike since March 2022.
ASUU is demanding that the federal government honours an agreement reached between both parties.
At the beginning of the warning protest in Lagos, workers marched to the office of the governor (video).
They asked President Muhammadu Buhari to "go" for failing to keep Nigeria secure and manage the economy properly.
Femi Falana, a lawyer who joined the protest on Tuesday also warned that Nigerians could gather for a bigger protest that would make the EndSARS protest of October 2020 "child's play."