Security operatives on Wednesday in Abuja arrested several persons believed to be impersonators during the mega protest organised by the Nigerian Labour Congress (NLC) in solidarity with striking unions in the nation's tertiary education sector.  
The suspects were identified by members of the NLC before they were taken away by the operatives.
Speaking at the commencement of the protest at the Unity Fountain, Abuja, NLC president Ayuba Wabba said the protest followed the obvious neglect of Nigeria's tertiary education sector by the federal government.
"The reason we are here today, comrades, is something that is known to every Nigerian.
"The children of the working class, the children of the less privileged have been at home for the past nine months and nobody cares.
"No reason is good enough for the children of the working class and the poor to be at home for one day whereas their children are graduating daily from private Nigerian universities and universities abroad and they have the audacity to post them on social media so that we can see."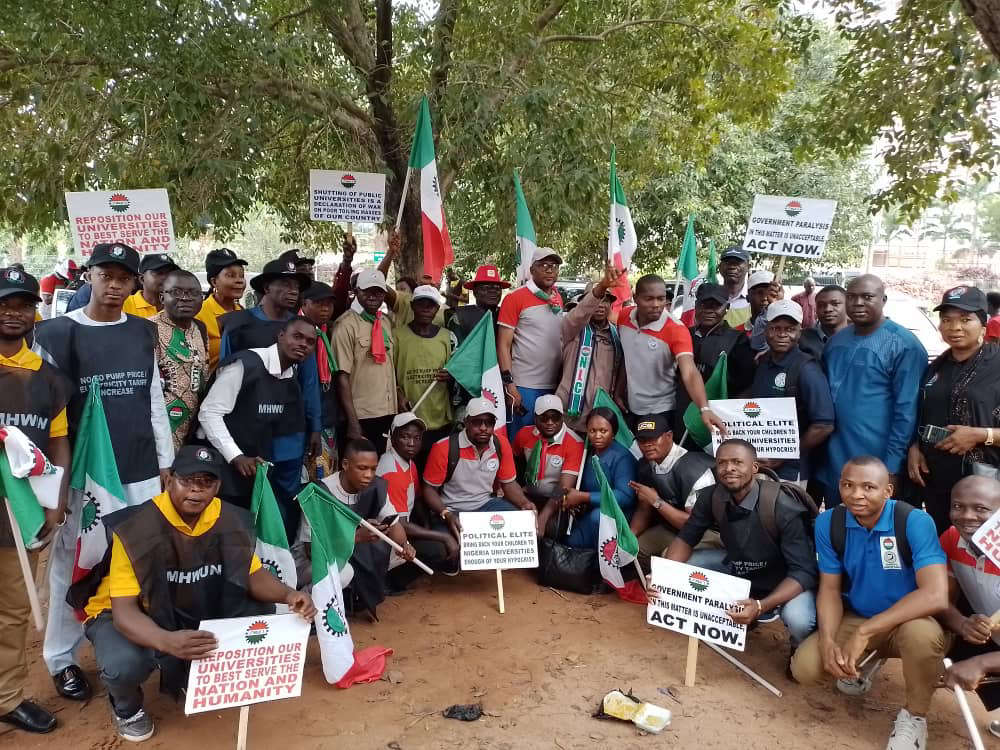 The NLC began a two-day protest across Nigeria on Tuesday in solidarity with the Academic Staff Union of Universities (ASUU) which has been on strike since 14 February.
Wednesday's protest in Abuja was tagged as a mega rally.
Earlier, ASUU President, Prof. Emmanuel Osodoke said the federal government had failed to live up to several agreements reached with the unions.
He also reechoed ASUU's criticism of the government's Integrated Payroll and Personnel Information System (IPPIS).
"We need to know that this was conceived by the World Bank and given to the government for which the government is paying heavily and you know they are struggling to put many people.
"They have the option of signing a comprehensive system for a country; you'd pay a fixed amount in a year, you will also have the option of payment per person instead of paying as a country you would pay per person.
"The option of payment per person is so that the more people you put in the more money you would pay and that is the problem we are having today, the more you put in the more you pay.
"And those who are interested are Chinese country and we have been vindicated by what happened to the accountant-general of the country
who was involved in an allegation in court for stealing N170 billion," Prof. Osodeke said.
The government deployed the IPPIS in 2007 and uses it to pay the salaries and wages of workers, but ASUU has consistently opposed it in favour of the University Transparency and Accountability Solution (UTAS) which was developed by the union.
The controversy over which of the systems to use in paying lecturers is one of the reasons ASUU is on strike.
Others are the poor funding of universities and the payment of arrears.